Introspective Dioramas of the Sea
Anne Emmanuelle Marpeau's dioramas are boxes that contain complex scenes of horror and fables of the sea from years gone by. They are stories of calamities, the misadventures of commerce and trade, tragedy at sea and portrayals of communities, dependent upon the ocean's offerings.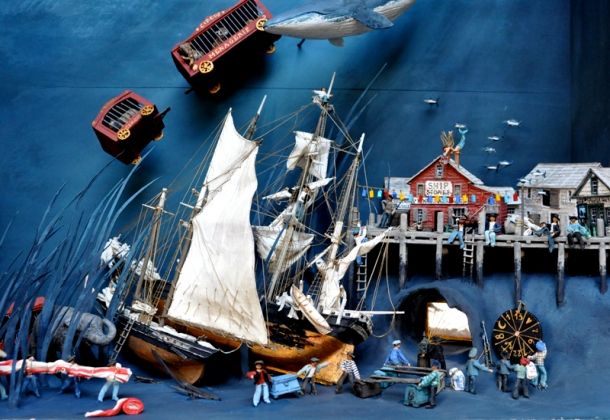 Marpeau is based on the Brittany coast, in Finisterre (France) , she produces work that focuses on maritime stories from Maine (U.S.) and Europe. She calls these boxes 'Ex-votos', which translates to 'from the vow made'. Ex-votos – ex voto suscepto from Latin, means in gratitude or devotion. Religious ex-votos would have once been in abundance, sited in churches or as part of shrines, they are defined as objects placed in locations to give thanks.
Born in 1962, Anne Emmanuelle grew up spending time with her slightly reticent Grandfather who's life was taken up by working the sea – fishing and as part of a lifeboat crew. These boxes; dioramas or ex-votos are a sort of homage [I believe] to her Grandfather and, from what I've read of her as an artist, they are scenes she imagined he might have had portrayed to her if he [her Grandfather] had been more communicative.
Fantastical and, at the same time forthright Marpeau's work encompasses all elements: From the textures achieved in the skies and the seas, to a vulnerability executed by the vastness of a scene - the space and scale she creates between the vessels, the animals, the coast and the people - these are perpetual and complex tableaus that feel kinetic.
You will find something new every time you study them, according to changing light which will cast different shadows off the items inside the box. The psychological perspective you might employ upon the next glance at these wonders may shift between the appreciation of the natural wonders of the sea to the empathy you share with Marpeau's characters; men clutching to the rigging or women hailing to a loved one who's leaving his home port. This is especially poetic when you view 'The Lighthouse Keeper's Silent Conversation With The Sinking Ship', shown above.
"I have wrestled with death. It is the most unexciting contest you can imagine. It takes place in an impalpable grayness, with nothing underfoot, with nothing around, without spectators, without clamor, without glory, without the great desire of victory, without the great fear of defeat."
– Joseph Conrad
Dare imagine, or remember yourself in a quandary at sea. Seconds tick along in slow motion while a cluster of thoughts rush through your mind; from weather conditions, depth, navigation, loved-ones ashore, your consciousness of physical space interacting, perversely, with the natural world you find yourself suspended in. After you [the viewer] consider the velocity of thoughts that may have once raced through your own mind in peril, I think you can fully absorb the stories that Anne Emmanuelle Marpeau is telling in these ex-votos. Marpeau is a genius for asking us to imagine and explore historically important maritime stories. Enjoy!